Even though Treasure Island is less than an hour from Tampa Bay and part of heavily populated Pinellas County, it is a destination that sets itself apart. Visiting Treasure Island, you'll find kitschy shops like the Florida Shell Shop and great food at places like the popular Middle Grounds Grill. Visitors discover the local people are friendly and welcoming.
Check out the top 11 things to do in Treasure Island Florida that will make for an unforgettable trip!
A tour we think you'll love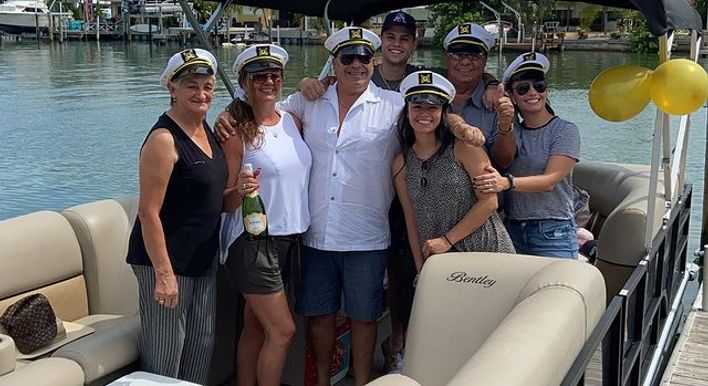 24′ Pontoon Boat
From $450
View tour
1) Treasure Island's Beach
Staying at one of the resorts and hotels on Treasure Island, you will have easy access to three miles of sugar-white sand that overlooks the sparkling Gulf of Mexico. Even if you're not staying on the island, you can still enjoy a day at this favorite local beach, but you'll wish you stayed closer!
One of the best Treasure Island attractions is a one-mile paved walking and biking path called the Treasure Island Beach Trail. The trail runs from the Gulf Front Park at 104th Avenue to 119th avenue.
Walkers and bikers can enjoy a spectacular view of Treasure Island's white sand beach with the stunning turquoise water in the background. For food and drinks, the Middle Grounds Grill is one block from the beach on Gulf Boulevard.
2) What To Do In Treasure Island Florida – Island Events
Visit Treasure Island during one of these popular times, and add a fun event to your list of things to do in Treasure Island Florida.
The most famous event is the annual Sanding Ovations sand castle competition. The event takes place over four days in mid-November, with master sculptors arriving from all over the world. Visitors watch as simple piles of sand become intricately sculpted artwork.
The Annual R&B Crab Fest in March is held at the Grand Villa of St. Petersburg. Attendees can enjoy the latest R&B music, food trucks, line dancing, arts and crafts, and activities for teens and kids.
The annual Treasure Island FL Kite Festival happens every January over the MLK Holiday weekend. Kite flyers come from all over the U.S. to put on a show with demonstrations set to music and stunt flying.
3) How To Get Around The Island
Treasure Island FL is only three miles long, so you don't need to rent a car, the island is easy to navigate on foot or by bike.
Treasure Island public transportation is available on the Suncoast Beach Trolley. The trolley runs between Clearwater and St. Pete Beach, making 16 stops, including Clearwater Beach, Sand Key Park, Bay Park, Indian Rocks Beach, Redington Beach, Madeira Beach, John's Pass Village, and Treasure Island. The trolley is at each stop once every half hour.
4) Treasure Bay Golf And Tennis
The City of Treasure Island offers a fun place where you can get out, be active and enjoy a coastal adventure with your family.
Treasure Bay Golf and Tennis offer a par three public golf course for a quick nine-holes. No tee times are needed, show up and play. Golf fees are $11.00 to $15.00 and pull carts and golf club rentals are available for an added charge.
Tennis courts are available with a choice of clay or asphalt courts. There is also pickleball, sand volleyball, basketball, shuffleboard, footgolf, and a pirate ship playground.
5) Paradise Spa Treasure Island
Paradise Spa is a full-service luxury facility that offers massages, facials, body scrubs, skincare, manicures, pedicures, and more.
Some of the professional therapies offered include:
Hyrdo-Therapy

BAT therapy

Reiki

Facial waxing

FIR-Infrared sauna
6) Sunset Vista Trailhead Park
This small park with a lovely pavilion is perfect for a couple of hours of quiet time on the beach. The park offers an outdoor shower, but there is no public restroom.
You'll need to park at the beach lot next to Caddy's Beach Bar and walk or take the Suncoast Beach Trolley. While you are there, be sure to take the short nature trail on the beach and read the posted signs to learn more about the ecology of the sand dunes.
7) Treasure Island Deep Sea Fishing Tour
Fishing is a big deal in the Tampa Bay, St. Petersburg, and Clearwater Beach areas, and it's easy to see why. In an area surrounded by water, offshore and deep sea fishing tours are exciting adventures where you can take home dinner!
Some of the fish you can hope to catch include kingfish, snappers, and groupers with an occasional barracuda or hogfish. Taking a fishing tour boat, you'll benefit from an experienced captain who knows these waters and provides all the gear and the best bait for the area.
8) What To Do In Treasure Island Florida – Beach Hopping
Sunset Beach is at the south tip of the island, bordered by a residential community. Beachgoers here can walk along almost a mile of boardwalk over the dunes. A beach pavilion offers restrooms, showers, a shaded picnic area, and a playground.
Sunshine Beach is a quiet spot at the island's northern edge. It starts just south of John's Pass Bridge and is seven blocks long. This area is good for shelling and watching the tour boats heading out for dolphin tours.
Treasure Island Beach is the star of the show, with three miles of sugar-white sand and plenty of space to spread out. The area is good for swimming and snorkeling. Restrooms and showers are available at Gulf Front Park.
9) Find Shells And Enjoy The Beach At Shell Key
The aptly named Shell Key is a small island south of Treasure Island, where the beaches are covered in small shells. Visitors can sort through thousands of shells looking for the perfect one and even pick up sand dollars.
Shell Key is only accessible by boat. Visitors can take a scheduled ferry or rent a boat for more flexibility. Hubbards Marina ferry service departs from Madeira Beach, and the Shell Key Shuttle heads out from Pass-a-Grille Beach.
Shell Key Ferry leaves from Fort De Soto. Renting a boat from Treasure Isle boat will allow you to stay as long as you choose before exploring other areas like nearby Egmont Key.
10) Treasure Island Tours
Dolphin tours are one of Treasure Island's most popular excursions. Boats depart from Madeira Beach or John's Pass in search of the playful resident bottlenose dolphins around Boca Ciega Bay.
Kayak tours explore the sandbars and mangrove tunnels near Treasure Island, St. Pete Beach, Egmont Key, and Shell Key. Night-time kayak tours are available on illuminated kayaks departing from St. Pete Beach.
Private boat charters are a great way to experience a world-famous Florida sunset from a quiet spot on the water.
11) Be Capitan For A Day
Treasure Isle Boat Rentals offers travelers a chance to explore at their own pace as they navigate the water on a roomy, plush pontoon boat. You'll captain your own boat with room for a total of 15 people.
Search the clear blue water for dolphins and pick up shells at Shell Key. Search for wildlife at Boca Ciega Bay Aquatic Preserve. You can do as much or as little as you want because the choice is yours.
Go online or give us a call today! We look forward to seeing you!