If you plan to visit the Tampa Bay, St Petersburg, and Clearwater areas, then you already know that Florida has more to offer than just rollercoasters, shopping malls, and alligator farms.
Escape the crowds and explore the real Florida with our list of nine fun things to do in St Pete Beach Florida.
A tour we think you'll love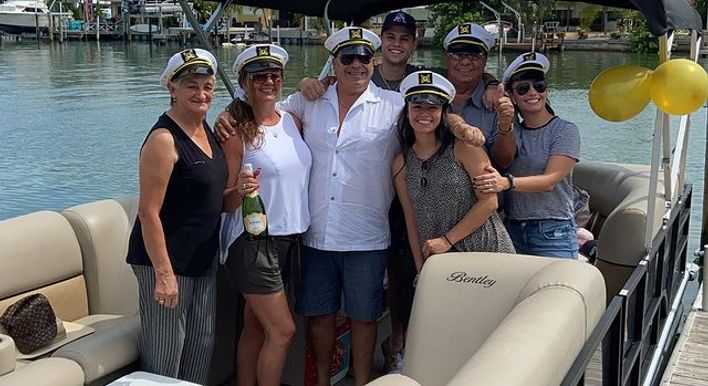 24′ Pontoon Boat
From $450
View tour
1) Boca Ciega Bay
Between the shores of St Pete Beach and the Gulfport Beach recreation area is the Boca Ciega aquatic preserve. The bay is home to dolphins, sea turtles, manatees, herons, spoonbills, and brown pelicans. Under the water, you'll find seagrass beds, oyster bars, and spring-fed caves.
At the northeast end of the bay, the Boca Ciega Millenium Park has a 35-foot-tall observation tower with an impressive view of the bay and the sandy beach shoreline.
For things to do in St Pete Beach away from the crowds, Boca Ciega offers:
Fishing

Canoe and kayak launch

Dog park

Nature trail

Boardwalks

Playground
2) Boyd Hill Nature Preserve
Boyd Hill Nature Preserve is a 245-acre park surrounding Lake Maggiore. Paved hiking trails and boardwalks wind through the park for more than six miles, showcasing the ecosystems of the Tampa Bay area.
See the Lake Maggiore Environmental Education Center as you enter the park. Head in that direction first to spend time in the bird aviary for a close-up look at some of Florida's native sea birds.
Habitats include:
Swamp Woodlands

Willow Marsh

Lake Maggiore

Scrub Island

Pine Flatwoods
3) Saint Petersburg Saturday Morning Market
The St Petersburg Saturday Market is held in the parking lot of Al Lang Stadium overlooking Tampa Bay. Hang out with the local people and enjoy locally grown fruits and vegetables.
You'll find vendors at 140 stalls selling fresh produce, with live music and artisan food vendors serving products like:
Seafood

Baked goods

Jellies and jams

Chocolates

Cheeses

Salsas, chutneys, pickles, and popsicles

Jerkey

Hand-crafted items
The Saturday Morning Market is less than ten miles from St Pete Beach. It takes place every Saturday from October through May from 9:00 am to 2:00 pm.
4) Fort De Soto Park
Fort de Soto Park covers 1,136 acres across five connected islands. Visitors can enjoy almost three miles of sandy beach that earned the best beach award from Tripadvisor.
Fishing is possible with a fishing license from two fishing piers. Ferry service is available to visit Egmont Key and Shell Key. There is a historic fort and a large family campground with 238 sites.
The recreational canoe and kayak trail covers 2.25 miles of easy paddling, where manatees sometimes swim up to your boat. Dogs are welcome at Fort de Soto, and the onsite dog park includes designated beach access.
5) Family Things To Do In St Pete Beach Florida – Clearwater Marine Aquarium
The Clearwater Marine Aquarium is a must-see for animal lovers and anyone traveling with children. If you're staying in the St Pete Beach area, the aquarium is just a 30-minute drive north.
The aquarium helps sick or injured marine animals, rehabilitates and then releases them back into the wild if possible. Animals that cannot be released become permanent residents. Resident marine animals include:
Dolphins

Sea Turtles

Otters

Pelicans

Sharks

Stingrays
Explore the exhibits and watch handlers feed and care for the animals. There are daily dolphin, shark, and turtle talks. Upgraded opportunities are available for guided tours, boat rides, bottlenose dolphin experiences, and shark care.
6) Gulf Beaches Historical Museum
For travelers staying in the St Pete Beach area, the Gulf Beaches Historical Museum is a short scenic drive away. The museum is housed in the 1917 building that initially served as the Pass-a-Grille Community Church.
When the growing body of church members outgrew the structure, a bigger church was built in the Pass-a-Grille area of St Pete Beach. Journalist Joan Haley purchased the church and used it as her home until her death in 1989. She bequeathed the church to Pinellas County to be used as an island museum to display memorabilia of Florida's gulf coast.
Island museum exhibits include St Pete Beach photographs, postcards, maps, local school yearbooks, and memorabilia from Mrs. Haley's personal collection, including a Don CeSar Hotel display.
7) St Pete Beach Attractions
Beach lovers can spend their days relaxing and enjoying the lovely white sand of St Pete Beach and have a fantastic time. But if you want to do some beach hopping, here are two great choices to visit.
Nearby Treasure Island beach is only 2.5 miles north. Three miles of soft white sand are framed by the clear blue water of the Gulf of Mexico. It's a great beach for enjoying the Florida sun and looking for shells.
Less than a mile south is Upham Beach Park, a popular surfing spot. Upham Beach is a wide white sand beach that is reached by walking across one of the four wooden dune walkways over the sand dunes. There are outdoor showers and public restrooms available on the beach, and food concessions close by.
8) John's Pass Village
John's Pass Village is a lively tourist destination just south of Madeira Beach. Heading north from Treasure Island, you cross the bridge over John's Pass, an entrance that was created by a hurricane in September 1848.
The village offers over 100 boutique shops, bars, and restaurants. Shark tours, sunset cruises, parasailing, and deepsea fishing trips can be booked here. Walk the boardwalks and see the tour and fishing boats lined up along John's Pass.
9) Things To Do In St Pete Beach On The Water – Rent A Treasure Isle Boat
Get out on the water and enjoy a day of cruising in a comfortable pontoon boat with padded seats. Bring friends and family along as the Treasure Isle's pontoon boat rentals can seat up to 15 people.
Whether you are a first-timer or an experienced boater, the friendly staff at Treasure Isle can get you out on the water and having a great time. Explore the Intracoastal Waterways between St Pete Beach and Clearwater Beach and the Boca Ciega Bay Aquatic Preserve. Our boats are well maintained, and new boats are cycled through the fleet yearly.
Being on the water is one of the most fun things you can do in Florida! Give us a call or go online today to reserve your boat!